Home
Details

Category: Site Notices
Published on Monday, 25 February 2008 12:31
Written by Frank Andrews
Hits: 4709
n.b. Currently being related to a Wiki version that allows anyone to update. As entries are transferred they will be removed from this version. See the new version at glass-study.org .
The Glass Bibliography, informational and nothing for sale, is now freely available to the general public. Born in 1998 and since on static web pages it has always attracted many visitors. Now, March 2008, it has been reborn, with every original entry being re-researched and updated and an additional 400 titles added during that review. Additions continue...
Details

Category: Site Notices
Published on Friday, 23 February 2007 21:06
Written by Administrator
Hits: 3022
The Glass-study is intended to be a non-profit making resource for people with an interest in glass but will primarily benefit writers, researchers, historians and the collector. The annual fee of 30 Euros is to be used to fund the digitisation and to build a charity fund to maintain the continued growth. Ultimately access will be free but will require a fund to support it ad infinitum.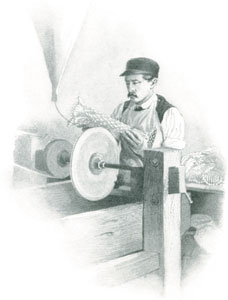 Glass cutter (Libbey Glass c1895)
This first stage is building a library of original glass reference material. Out-of-copyright, fully digitised, In-copyright, indexed. Unlike eBooks these are not images but fully converted searchable text that can be annotated as needed. The images are fully restored to as new condition and are available as is for members to use on other web-sites. For use in publications 600 dpi versions of the cleaned images are available. The initial emphasis is on trade directories but members can ask for particular publications on the lists to be prioritised.
The scope of the site is Glass, in all its forms, art and technology.
At the time of opening there were just under 1,000 pages available. About half are German and half English language. With two short documents in French and Spanish.

Additional facilities are planned be added after the library is completed. It is also possible for others to get involved in filling the library, either directly or by submitting scans or converted texts. We would of course be happy to feature original articles too!
Uncertain about joining? I am not a marketing person so feel free to ask questions either via the Contact option or publicly on the Glass Messages Board Forums
N.B. AOL USERS have reported Login problems, but no problem if switching to another browser (???)
I am also responsible for ysartglass.com (free) scotlandsglass.com (free) and The Glass Zoo (Low price subscriptions)
Thank You
Frank Andrews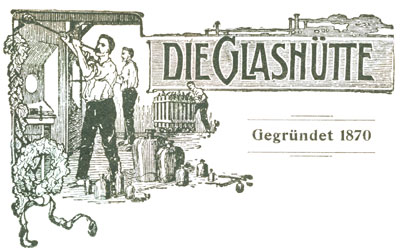 Adressbuch Deutschlands Glasindustrie 1925