Details

Category: Company Publications
Published on Friday, 23 February 2007 18:25
Written by Frank Andrews
Hits: 6514
Page 3 of 19
---
Reflections 1 - 1985 - Page 3
Dear Collector...

To us at Caithness Glass 1985 must be the Year of the Paperweight. Never before have we created so many new designs and had complete sell outs within a one year period. This heartening increase has created opportunities for six young people. During 1985 they have embarked on the lengthy journey towards becoming fully skilled paperweight makers. Their enthusiasm and progress has encouraged me greatly.
When we launched the Collectors Club in 1976 we dreamt of publishing a yearly paperweight review. It?s taken 9 years, but here it is! The content of ?Reflections? has been dictated by the queries sent in by you, the collector. The first issue attempts to answer the most frequent questions put to Club Secretary, Rona Murray, during the last 5 years. Rona is emigrating to Australia at the end of the year and, although we are sorry to see her go, we are confident that an Australian branch of the Collectors Club will be initiated within weeks of her arrival there. We have now appointed her replacement - Rona is ?a hard act to follow?.
Remember that the Caithness Collectors Club exists to serve all admirers and collectors of Caithness Paperweights. You can help the Club by communicating your interests and thoughts to the Club Secretary. If enough members are interested in a particular aspect of paperweights we will try to explore the topic in one of our newsletters.
1986 marks the Silver Jubilee of Caithness Glass and we intend to make it a year to remember with many exciting promotions and events. Paperweights will feature strongly in the celebrations and we shall keep you in touch with details of our plans.
We shall try to continue to design innovative and interesting paperweights. We hope you will continue to like the ideas we produce.
Yours sincerely,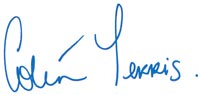 Colin Terris,
Director, Caithness Collectors Club.