Details

Category: Company Publications
Published on Friday, 23 February 2007 18:25
Written by Frank Andrews
Hits: 6516
This publication is NOT re-usable by Glass Study members. Any reproduction requires the express consent of Caithness Glass Co. Ltd.
Reflections 1 - 1985
Caithness Paperweights - Annual Review
SEADANCE Five silvery dancers perform amidst the swirling fronds of the sea bed.
---
Reflections 1 - 1985 - Page 2

Annual Review

Index

---

Dear Collector... a message from Caithness Glass Designer Colin Terris

 3

A Royal Occasion - a pictorial review of HM The Queen's visit to Caithness Glass at Perth, in July 1985

 4

Oban and Perth Paperweight Studios - an opportunity to meet the Caithness teams on a guided tour of our paperweight factories

 6

Favourites of '85 - The year's Best Sellers!

 8

Designer at Work - Colin Terris working on the conception of new ideas

 9

Classics '69 - '85 - A personal choice of paperweights by some of the people involved in their development

10

Summer Meadow... Three of our craftsmen work together on a new creation

12

The Making of Ice Dance - a pictorial step-by-step from molten glass to the finished weight

13

Moon Orchid - the 1985 Caithness Collectors Weight

14

Collectors Weight '77 - '84 - limited editions exclusive to Club Members

15

The Traditional Skills of the Paperweight Maker - One of the hallmarks of Caithness is the ability to combine tradition with innovation

16

The Artform of Lampwork - an integral part of many paperweights

17

A Miscellany of Weights... some paperweights you may not have seen before!

18

Collectors Comments - the thoughts and views of a few of our many collectors

19

---

Director: Colin Terris
U.K. Club Secretary: Mary Kristensen. U.S.A. Club Secretary: Charlotte Judd
Publications Co-Ordinator: Mhairi Coull
Design and Photography by Davis Design Studios, Glasgow
Colour Separation: Studio North, Leeds
Printed by Commercial Centre, Oldham.

On the cover SEADANCE Five silvery dancers perform amidst the swirling fronds of the sea bed.

REFLECTION'S is published annually by Caithness Collectors Club, Inveralmond, Perth, Scotland PH1 3TZ. Caithness Paperweights are distributed in the United States by Caithness Glass Inc., 141 Lanza Avenue, Building 12, Garfield, NJ, and the US Collectors Club is organised from that address. © 1985 Caithness Collectors Club. All rights reserved.

Scotland's Glass version 2006 with permission of Caithness Glass plc. By Frank Andrews and Wolf Seelentag.
---
Reflections 1 - 1985 - Page 3
Dear Collector...

To us at Caithness Glass 1985 must be the Year of the Paperweight. Never before have we created so many new designs and had complete sell outs within a one year period. This heartening increase has created opportunities for six young people. During 1985 they have embarked on the lengthy journey towards becoming fully skilled paperweight makers. Their enthusiasm and progress has encouraged me greatly.
When we launched the Collectors Club in 1976 we dreamt of publishing a yearly paperweight review. It?s taken 9 years, but here it is! The content of ?Reflections? has been dictated by the queries sent in by you, the collector. The first issue attempts to answer the most frequent questions put to Club Secretary, Rona Murray, during the last 5 years. Rona is emigrating to Australia at the end of the year and, although we are sorry to see her go, we are confident that an Australian branch of the Collectors Club will be initiated within weeks of her arrival there. We have now appointed her replacement - Rona is ?a hard act to follow?.
Remember that the Caithness Collectors Club exists to serve all admirers and collectors of Caithness Paperweights. You can help the Club by communicating your interests and thoughts to the Club Secretary. If enough members are interested in a particular aspect of paperweights we will try to explore the topic in one of our newsletters.
1986 marks the Silver Jubilee of Caithness Glass and we intend to make it a year to remember with many exciting promotions and events. Paperweights will feature strongly in the celebrations and we shall keep you in touch with details of our plans.
We shall try to continue to design innovative and interesting paperweights. We hope you will continue to like the ideas we produce.
Yours sincerely,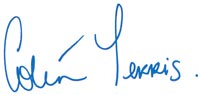 Colin Terris,
Director, Caithness Collectors Club.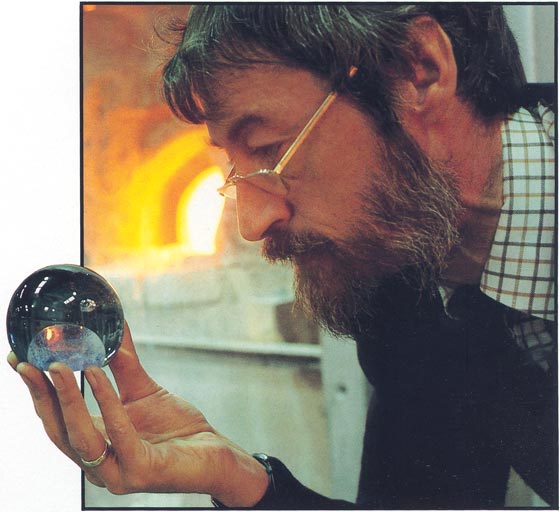 ---
Reflections 1 - 1985 - Page 4

A Royal Occasion...

 

Caithness Glass in Perth was honoured with a visit by Her Majesty the Queen and His Royal Highness the Duke of Edinburgh on the 2nd July 1985. The Royal party made a comprehensive tour of the Glasshouse and after visiting the paperweight museum were presented with specially designed paperweights.

Her Majesty the Queen received a delicate crystalline rose design, overlaid in graded shades of emerald green. The paperweight presented to H.R.H. the Duke of Edinburgh had a nautical theme and was overlaid in ocean green.

 
---
Reflections 1 - 1985 - Page 5

The Queen at Perth
---
Reflections 1 - 1985 - Page 6

The Oban and Perth Paperweight Studios

 

---

Our paperweights are created in two studios, both of which are situated in locations famous for their scenic beauty.

---


The Perth Glasshouse.

Our Perth factory, opened in 1979

Husband and wife team. Joyce and William Manson

The Perth paperweight making team, including on the far right Perth Production Manager, Stanley McNab, who has 25 years service.

Maestro Franco Toffollo works on a triple magnum paperweight.
---
Reflections 1 - 1985 - Page 7

The Oban and Perth Paperweight Studios (Continued)

A look behind the scenes in our two paperweight studios.


The Lampwork Studio team.

Perth Stores and Despatch Quintet.

The Perth finishing and facetting team.

Peter Fuin - Persuaded to leave sunny Italy for the far north of Scotland. One of the original glassmakers to join Caithness Glass at Wick in 1960. He moved to Oban in 1972.

The Oban production team.

Oban Glassworks. Opened in 1969.
---
Reflections 1 - 1985 - Page 8

Annual Review

Favourites of ?85

Every year the serious collector, the casual collector and the gift-giver determine a ranking of favourite designs. We illustrate 1985?s best sellers.


LEFT: Cauldron Sable (Unlimited): A new colour for an old favourite.
RIGHT: Water Lilies (Ed. 250): A new facetting style - an instant success.


Moon Crystals (Unlimited): Lunar magic-enchanting thousands ...

Lilac Time Set (Ed. 150):
A chic design by Jeneo Lewis - one of our senior paperweight makers.

Serenity (Ed. 500):
Visually therapeutic explosive sales...

Chiffon (Ed. 750):
We nearly called it ?Brocade?!
| | |
| --- | --- |
| Primroses (Ed. 250): A Satin finish - window facet - a new approach. | Honey Bee (Ed. 100): A showpiece for both the lampworker and facetter. |
---
Reflections 1 - 1985 - Page 9

Designer at Work

To escape from such heady terms as cash-flow, budgets and production rate per hour, I retreat to the Glasshouse whenever possible. I find that inspiration and innovation derive more easily from working with hot glass and a few hurried scribbles on scraps of paper, rather than from producing smooth artistic impressions in the isolation of a design studio.

 
---
Reflections 1 - 1985 - Page 10 & 11
Classics ?69 - ?85 a personal choice
Many people have been involved in the development of our paperweight business since 1969. We asked some of them to choose their all-time favourite - however they all had great difficulty selecting just one! Perhaps you would like to decide which paperweight is your favourite.
Blue Floral Fountain, 1980
A flower in full bloom frozen for eternity within a crystal dome-Blue Floral Fountain was one of the first paperweights in my collection.

Rona Murray, Collectors Club Secretary

Pagoda, 1984
For me, Pagoda captures the mystical charm of the Middle East.

Matt Young, Technical Director

Labyrinth, 1985
This paperweight reminds me of a fascinating visit to Knossos on Crete. I might there have walked where Theseus and Ariadne inspired the legend of the Labyrinth.

John Calder, Paperweight Production Director

Mystique, 1979
This paperweight embodies the delicacies and intriguing subtleties of this beautiful art form.

Alisdair Fleming, Director/Secretary

Elegance, 1981
The aptly named Elegance is one of my favourites, employing a technique of colour overlapping to produce the attractive combination of an abstract design with a traditional subject.

Alistair Mair, Managing Director

Honesty, 1983
A respect for the simplicity and elegance of good design married so successfully to the skills of the glassmaker makes Honesty a favourite with the studio.

Davis Design Studios

Black & Gold Perfume Bottle and Paperweight Set, 1980
I was inspired to design this set when oil was first being extracted from the North Sea, hence 'Black' represents the oil, and 'Gold' the revenue.

James MacBeath, Production Manager, Glassware

Intruder, 1977
One of my favourite paperweights, Intruder calls to mind a salesman's life; often lonely but with a bright glittering appeal, typified by the base of the weight.

Peter Ford, Sales Director

 

Octet, 1979
I see a touch of the traditional in this contemporary paperweight which, with the stark contrast of colours, makes it my favourite.

Denis Crowe, Manager, Oban Glass.

Aquarelle, 1985
I like Aquarelle because of its modern sophisticated look and the 'softness' created by the unusual surface finish.

Stanley McNab, Production Manager, Perth
---
Reflections 1 - 1985 - Page 12

Summer Meadow

A New Style Created


Harry McKay, paperweight maker and Alan Scott, lampworker, discuss the techniques of making a three-level traditional paperweight.

Using a fine burner Alan draws delicate white leaves from a rod of white glass.

He then assembles these white leaves into a floral arrangement.

Selecting the correct colour and size of glass butterfly from a myriad of jewel-like lampwork pieces.

The completed lay down. When making the paperweight a thin layer of clear glass will separate each of these delicate arrangements.

The third member of the team, Archie Anderson, advises on a new style of facetting and cutting which will give the maximum three dimensional effect to the paperweight.
Caithness Glass is renowned for innovation. Sometimes a group of talents come together and forge a new dimension from traditional techniques. Summer Meadow was one of these rare occasions.

The completed paperweight
Summer Meadow Butterfly.
---
Reflections 1 - 1985 - Page 13

The Making of Ice Dance


Making two depressions to create head shapes.

After gathering more glass, picking up black and white powder glass on base.

Inserting metal tool through black and white areas to form body shapes.



Inserting fine metal spike to create arms.

The finished piece after facetting and polishing.



Paletting to lengthen figures.

Cutting in and spinning figures.

A circle of white has been picked up on base to represent spotlight effect.

Casing with hot heather colour and draining off excess.
---
Reflections 1 - 1985 - Page 14
Caithness - Moon Orchid
The 1985 Collectors Weight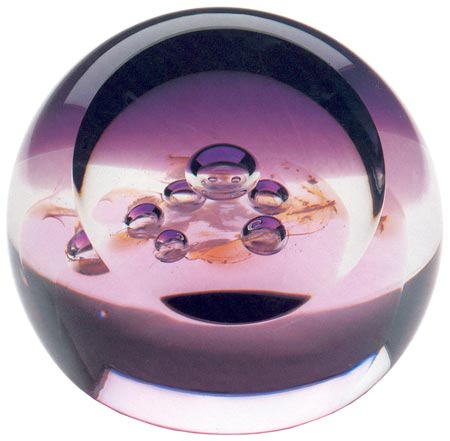 ---
This year?s collectors? paperweight depicts a wispy lunar orchid lightly tinted and textured, floating within a facetted weight. The piece is capped with a delicate magenta overlay which gently colours the suspended silvery bubbles.
Moon Orchid is created exclusively for Club members and the edition size is set at 1000.
For details on how to become a member of the Caithness Collectors Club please write to:
In USA please write to:
---
---
Reflections 1 - 1985 - Page 15

Collectors Weights ?77 to ?84

Index


Christmas Weight 500 Ed. 1977

Arctic Night 1,500 Ed. 1978

Black Gem 1000 Ed. 1979

Pirouette 1000 Ed. 1980

Enigma 1000 Ed. 1981

Persephone 1000 Ed. 1982

Robin & Kettle 1000 Ed. 1983

Solitaire 1000 Ed. 1984
---
Reflections 1 - 1985 - Page 16

The Traditional Skills of the Paperweight Maker


Gathering from the glass furnace.

Blocking to shape.

Piercing to create bubbles.

Snipping with ?Shears?.

Paletting to lengthen.

Picking up powdered glass colour.

Cutting in using ?Priscillas?.

 
---
Reflections 1 - 1985 - Page 17

The Artform of Lampwork

Early glassmakers melted and shaped coloured glass over the flame of a spirit lamp and increased the heat of the flame by blowing through it. Nowadays we use lamps burning gas but we hope to produce ?lampwork? worthy of the tradition.


The lampworker creating a lampwork flower.

The final result - 'Pansy'.

A steady hand is required.
---
Reflections 1 - 1985 - Page 18

A Miscellany of Weights

For various reasons over the years some paperweights were never illustrated in our Collectors ?Guides?. We try to rectify some of these omissions on this page.


Royal Birthday Tribute Ed. size 100, 1984
Issued to commemorate the birth of H.R.H. Prince Henry of Wales.

Royal Birthday Tribute Ed. size 100, 1984
Issued to commemorate the birth of H.R.H. Prince Henry of Wales.

Royal Birthday Moonflower Ed. size 750, 1984
Issued to commemorate the birth of H.R.H. Prince Henry of Wales.

Royal Wedding Millifiori Crown. Ed. size 250, 1981
Issued to commemorate the marriage of H.R.H. The Prince of Wales to Lady Diana Spencer.

H.M.S. Kelly. Ed. size 500, 1981
Specially commissioned to commemorate the 40th Anniversary of H.M.S. Kelly.

Opera. Ed. size 150, 1985.
Specially commissioned and available only from Sandbach Limited, 78A Mostyn Street, Llandudno.

 


Richard III Ed. size 500, 1983
Produced in collaboration with The Richard III Society to commemorate the Quincentenary of the Coronation of Richard III in 1483.


Dolphin Ed. size 25, 1985
Specially commissioned and available only from Petergate Gifts, 48 Low Petergate, York, England.

 


The Firefly Ed. size 500, 1985
Issued to commemorate the 150th Anniversary of The Great Western Railway.
---
Reflections 1 - 1985 - Page 19

Annual Review

Collectors Comments

Dear Secretary,

I have a silver coin which holds great sentimental value for me. I would like to have this placed inside a paperweight. Is this possible?

ANSWER

This request is typical of many we receive. I'm afraid that due to the great difference in expansion characteristics of silver and glass, the paperweight would be subjected to so much internal stress during the cooling cycle, that it would inevitably crack. The golden rule to remember is that anything encapsulated within glass must itself be made of glass e.g. lampwork flowers. The one notable exception to this rule is the sulphide technique. Our sulphides, which are porcelain based, have almost exactly the same expansion characteristics as our glass, therefore they can be encapsulated successfully.

Dear Secretary,

How do you create so many different colour effects within your paperweights? Can I ask also, how do some colours look flat and even whilst others appear to be a series of small spots, giving a more textured effect?

ANSWER

Colours in glass can be divided into two types. Hot colour, as we call it, is melted from a batch formula in small pots and gives the smooth even effect that you mention. Unfortunately we use such a large colour spectrum that it would be impractical to melt from batch all the colours we use in our paperweight range.

The alternative and much more flexible way of using colour is to use powdered, coloured glass in various chip and grain sizes.

The glass is melted the same way as normal from batch but is then 'baled out' from the pot and allowed to cool. It is then ground and crushed by machine into the required chip or grain size. As a by-product of this process, a percentage of very fine powder is created and we also use this to create some special effects. When a chip colour is used within a paperweight to give a colour pattern it gives the textured or spot effect you refer to in your letter.

  

AN ODE TO CAITHNESS

When I was five, I saw this globe,
'Millefiori', so I was told,
I vowed one day, when I was 'old',
I'd have my own to touch, hold,
Forty years on, I've just begun,
My husband purchased the first one.

Enclosed my cards, as you can see,
It's good for you, but hard on me,
A life of abject poverty, I've gone and bought another three!

So beautiful to hold and see,
The colours swirling round and round,
To represent the sky and sea,
Sat on shelfs, just tempting me,
I've got to buy, they don't come free,
Unfortunately!

My mortgage due, a gas bill too,
Quite honestly, what shall I do?
I'll have to curb my spending spree,
Before the bailiffs come to me,
I will not go and purchase three,
(I'll just have two!)

I can't pass by the china shop,
Oh what the hell! I'll have to stop,
The rates are paid (the 'phone bill's not),
I'll just browse and won't spend a lot,
But there they are, again I fall,
And buy another glass ball!

As I sit here and stare, stare,
(Disabled, lots of time to spare),
My money's spent, my bills are late,
Is selling up to be my fate?
But as I look, I think they're great,
Oh lovely, lovely paperweight!

Mrs W. J. Sharp.
---
Reflections 1 - 1985 - Page 20
Annual Review
Back cover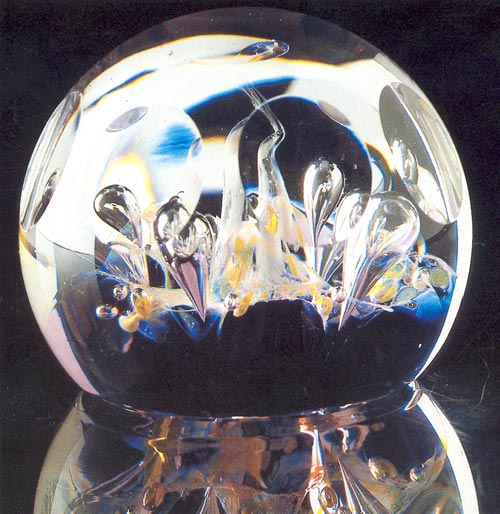 In 1986 Caithness Glass is twenty-five years old.
The Jubilee Paperweight has been designed
to celebrate this milestone in our history.
JUBILEE L8601, Edition Size 500