Details

Category: UK - Jobling - Mixed Batch
Published on Monday, 04 June 2007 00:00
Written by Frank Andrews
Hits: 2071
| | | |
| --- | --- | --- |
| Mixed Batch | – 47 – | James A. Jobling & Co. Ltd. July 1958 |

The development of Pyrex Tableware
While Pyrex oven-table glass, both clear and coloured, became nationally known and bought here, Coming's scientists in America produced a glass of even greater mechanical strength: a glass that could be heated up and plunged into water — much as steel is tempered. Jobling's made a dozen or so utensils from various modifications of this new glass; and after a while perfected one that would knock nails into wood without breaking! This glass was a delicate pearly white; and it was given the name Opalware.
'On trial' for two years
Tableware (or Opalware as it was then called) was subjected to a great many trials among the hardest users of all — the industrial and institutional catering business. There, the life of any crockery is short and the cost of replacement high. Crockery is roughly handled by canteen users and canteen workers and by automatic washing and drying machines. As a result of these trials it was found that in a hospital, for example, the breakage rate of Opalware was much lower than that of ordinary china; and it easily stood up to continual sterilizing. In one hospital ward only four Opalware cups were broken over a six months period in comparison with 180 earthenware cups! Opalware had proved itself on its two most important features — its great strength and heat-resistance. All other criticisms, mostly of shapes and sizes, were very soon remedied and an improved Opalware was put into mass production by Jobling's and soon became very popular among industrial and commercial caterers.
| | | |
| --- | --- | --- |
| Mixed Batch | – 48 – | James A. Jobling & Co. Ltd. July 1958 |
 


Britain's housewives asked for Opalware —

Although the Opalware on sale to caterers was undecorated and plain in shape, British housewives and shopkeepers were soon asking: Where can we get Opalware? Enquiries for it continued to pour in and Jobling's, believing that Opalware would be as great a success as Pyrex ovenware and colourware, speeded up their plan to make Opalware attractive for the home.

—and turned it into Tableware

Tableware was still Opalware when it first went on trial in homes all over the country — undecorated, plain and of 'canteen' thickness. Many women found Opalware much more difficult to break than ordinary crockery. Opalware, they said, was strong; long lasting; serviceable; heatproof; fresh and hygienic-looking; easy to wash up; but far too 'institutional'. The British housewife liked the product but wanted it finer, lighter, more attractive. So Jobling's turned stalwart industrial Opalware into the finer, decorative domestic Tableware.

Change of name — change of nature

As soon as Opalware was to be made for the home, in early 1957, its name was changed to Tableware. Industrial Opalware was — and still is — an established favourite with caterers; Tableware, on the other hand, had some slimming to do.

The problem was: how to fine-down the physical characteristics of the product without weakening it. Jobling's scientists solved it simply by altering the tempering process.

The importance of the design and colour

The cup was made nearer the shape of the good bone china cup. And for decoration Jobling's chose a flowery Wild Bryony pattern to attract housewives whose taste is for chintz rather than checks; and the simplified Coronet pattern. The Coronet pattern on Tableware was produced in green, still one of British housewives' favourite colours, and in red, one of the new 'home' colours. The Wild Bryony pattern was produced in charcoal, which on Tableware's pearly whiteness looks 'fashionable' and like a fine etching.

48
 
| | | |
| --- | --- | --- |
| Mixed Batch | – 49 – | James A. Jobling & Co. Ltd. July 1958 |
Making the pattern as permanent as the product
These patterns could not be introduced into the glass; but they had to be as permanent as the product. Many dyes, enamels and methods of application were tested. The patterns are now silk-screen stencilled and then fired on the Tableware at a very high temperature — and stand up to rough treatment equally as well as the product. Hammer-and-nail tests; shock treatments during manufacture (in seconds, Tableware's temperature is reduced over 200°C and the surface temperature then heated up more than 350°C.) — these and many other trials of strength keep the standards of Pyrex Tableware constantly high.
The ideal crockery
Jobling's feel that if a British housewife could make the kind of crockery she most desired, she'd make it very like Tableware!... so tough that it will stand up to knocking and banging; resisting chipping, cracking, oven-heat; outlasting ordinary crockery and glass; and with cup handles that cannot be knocked off. From the viewpoint of hygiene and cleanliness, too, Tableware gives no foothold to dirt and germs, nor to baked-on foods and other things that make washing up difficult. Tableware must be almost the housewife's ideal!
A credit to the Company
Pyrex are proud of Tableware. The thought and attention to detail that made this fine product possible is typical of the Company's approach to such problems now — even as it was in the earliest days.

49
| | | |
| --- | --- | --- |
| Mixed Batch | – 50 – | James A. Jobling & Co. Ltd. July 1958 |
The expansion of Jobling's —
AS A MEMBER OF THE TILLING GROUP OF COMPANIES
In 1949 Jobling's became a member of the Tilling Group of Companies. The import of this, for the benefit of the Company's products, and the people who make them, can best be seen by this following statement of the six principles which guide and direct the policy of the board of Thomas Tilling Limited:
To play an active and progressive role in British Industry
To develop and expand our Companies, which are varied and flexible, but well co-ordinated and unlimited in their possibilities
To maintain the unfettered freedom of the Boards of all our Companies to manage their businesses in their own way, subject always to our guidance and supervision, particularly on matters of policy and finance
To assure ourselves, before new Companies unite with us, that they are directed by men of high character and proven ability, primary consideration being placed on quality and continuity of management
To add to our numbers whenever favourable opportunities present themselves, entry always being on a voluntary basis, as compulsory take-overs and similar operations do not conform with our conception of the Group's progress and outlook
To build on a long term basis with a view to the future by endeavouring to act with sound judgment and with energy and foresight, not lacking in courage or enterprise, nor fearing to take reasonable risks
In the last ten years . . .
During the years 1946-1956, the factory where Pyrex is made was greatly developed. Many new buildings were erected, many new manufacturing processes put into operation, and many new machines were installed, including the remarkable Turret Chain Machine. This, the first of its kind in Europe is, briefly, an automatic glass-blowing machine which is currently 'blowing' — and simulating all the skill of eye and hand and of lung power — 40 beakers a minute with amazing precision. A man's output is usually only 40 an hour. The machine can be used to 'blow' many other different glass articles. Since 1946, the production of domestic Pyrex increased by 94 per cent. The acreage covered by the Pyrex factories and their related buildings has increased from 6 to more than 40.
50
| | | |
| --- | --- | --- |
| Mixed Batch | – 51 – | James A. Jobling & Co. Ltd. July 1958 |
— and in the future
The Pyrex Expansion Programme for the next ten years includes the further installation of new automatic machinery to speed and increase the production of all Pyrex products; the further development of the new 25-acre factory site near Newcastle; and the implementing of the most adventurous research and development programme the Company has ever planned for its domestic products as well as for its scientific and industrial equipment.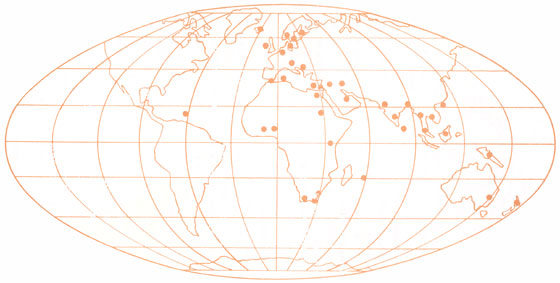 The places where Pyrex is now used overseas — and the Company's Overseas Agents
JOHN SHORTER PTY LIMITED, Sydney & Melbourne, Australia
EUROTRADE, Vienna, Austria
G. S. MARTIN & CO. LIMITED, British East Africa
J. L. MORISON, SON & JONES LIMITED, Nigeria & Ghana, West Africa
W. H. SPEYER LIMITED, Jamaica, Barbados and Trinidad British West Indies
J. L. MORISON, SON & JONES LIMITED, Rangoon, Burma
WESTERN COMMERCIAL AGENCY, Colombo, Ceylon
MOURADIAN BROS. BRITISH STORE, Nicosia, Cyprus
JORGEN KLINT, Copenhagen, Denmark
IMPERIAL TRADING CO., Cairo & Alexandria, Egypt
MUNSTER, SIMMS & CO. Dublin, Eire
HAVULINNA OY, Helsinki, Finland
MESSRS. CULDAN & CO. Gibraltar
L. D. SEYMOUR & CO. Hong Kong
OLAFFSON & BERNHOFT, Reykjavik, Iceland
G. ATHERTON & CO. (PRIVATE) LIMITED, Calcutta, Bombay, New Delhi, Madras
JABER MAHDI AL-BAZAZ & SONS, Baghdad, Iraq
H. G. GABRIELIAN ESQ. Teheran, Iran
NORTH BORNEO TRADING CO. LTD. Sandakan, Jesselton, Tawau, Labuan, Brunei Town, Sarawak, North Borneo
INDUSTRIAL SUPPLIES LTD. Tel-Aviv, Israel
J. L. MORISON, SON & JONES LTD., Kuala Lumpur, Penang, Ipoh, Maylaya
PETROLEA, Valletta, Malta
MANUFACTURERS DISTRIBUTING STATION, Port Louis, Mauritius
ZUID AFRIKAANSCH HANDLEHUIS, Portuguese East Africa
F. O. & H. S. HART LIMITED, Wellington, New Zealand
NOMAJERN A/S, Bergen, Oslo, Norway
ROSS-ELLIOTT & MCKELLAR (PTY) LTD., Ndola, Northern Rhodesia
G. ATHERTON & CO. LIMITED, Karachi, Lahore, Dacca, Chittagong, East Pakistan
GRAY MACKENZIE & CO., Kuwait, Bahrain, Persian Gulf
BURNS, PHILP LTD., Papua, Samarai, Rabaul, Madang, Lae, New Guinea, South Pacific
J. L. MORISON, SON & JONES LIMITED, Singapore
ROSS-ELLIOTT & MCKELLAR LIMITED, Salisbury, Southern Rhodesia
DIRAN GUMUCHIAN, Khartoum, Sudan
C. A. WALLENBORG & SON AB., Stockholm VA, Sweden
LOH TENG LENG, Bangkok, Thailand
ROSS-ELLIOTT & MCKELLAR (PTY) LTD., Durban, Johannesburg, Port Elizabeth, Cape Town, South Africa
MESSRS. MERKUR, Zagreb II, Yugoslavia
| | | |
| --- | --- | --- |
| Mixed Batch | – 52 – | James A. Jobling & Co. Ltd. July 1958 |
 

Sunderland

home of the people who make Britain's Pyrex

Situation

The River Wear is at once the backbone and main artery of Sunderland. Flowing west to east through the centre of the town, its banks are lined with shipbuilding yards and docks, until it broadens into the basin of Sunderland Harbour and thence, between the two sheltering piers and the lighthouse, into the North Sea. Thus Sunderland remains today, as it has been from its origin, a seaward-looking town; a tradition aptly illustrated in the ancient ship which tops its coat of arms, coloured black to signify the importance of the coal traffic.

History

The Saxon monastery of St. Peter's (reputed home of the first English glass) founded on the north bank of the Wear in 674 marked the beginning of Sunderland's history. Though the monastery and its surrounding township were destroyed by the Danes two centuries later, the monastery was rebuilt and still stands today. Two other townships also emerged during this early period, despite the depredations of the Danes and Scots: one south of the river, another in the present port area. By the 14th century a dock is mentioned, and in 1396 coal was first shipped from the port. Thereafter the three communities prospered and gradually grew together. In 1634, the 'Borough of Sunderland' was incorporated. With the building of a pier and lighthouse in 1669, improvements to the harbour began which have.

52
 
| | | |
| --- | --- | --- |
| Mixed Batch | – 53 – | James A. Jobling & Co. Ltd. July 1958 |
continued to this day. The description applied to Sunderland at that time remains appropriate: 'well inhabited with rich and able merchants and tradesmen having a haven capable of containing many hundreds of sailing ships at a time loaded with coals, salt, glass and other merchandise'.

The Port

Sunderland is the largest ship-building town in the world, having 8 shipyards, 4 dry docks and 25 building berths. It has turned out as many as 58 merchant ships in one year, and during the war produced about 27 per cent of the United Kingdom's merchant shipping. This is only part of the port's work. Exports are handled on a large-scale, principally coal and coke, but also much benzole, oil, petroleum and general cargo. Among the many imports, timber and grain rank high. Sunderland is one of the largest import centres for esparto grass, used in paper-making.

The Docks have the most modern equipment, electric cranes and belt conveyors, grain-discharging plant and vast warehouses. Quayage in the South Docks totals 12,500 feet. From the Commissioners' staiths, 15,000 tons of coal can be shipped in two 8-hour shifts.

Industries

In addition to the ancient trades of glass manufacture and pottery (including the famous 18th century Sunderland jugs — collectors' pieces today) more recent industries have become established in Sunderland. Engineering work and the manufacture of marine and aero engines is considerable. The timber trade and associated crafts, such as furniture-making, are strongly represented. There are breweries, flour mills, tyre vulcanizers and limestone quarries. Among Sunderland products are: clothing, paper, earthware, gut and casings. Gas coal of the highest quality is mined within the borough.

 

53
| | | |
| --- | --- | --- |
| Mixed Batch | – 54 – | James A. Jobling & Co. Ltd. July 1958 |
1858
From a small workshop that, in a century, has grown
to a modern industrial concern whose products have become
household words, and are exported all over the world — that,
briefly, is the history of the Wear Glass Works.
None of this could have been achieved without the help
of the people who, through this time, have given, and still
are giving, their services to the Company, in various
capacities; often from generation to generation, son following
father in the Company's employ; often in the tradition of
a craft; most of them natives of Sunderland; all of them
contributing to Sunderland's claims to being the proud home of
Britain's first glassmakers. But for these people,
this history would not have been made; this
story could not have been told — for they,
and they alone, are the Company of James A. Jobling.
1958
| | | |
| --- | --- | --- |
| Mixed Batch | – 55 – | James A. Jobling & Co. Ltd. July 1958 |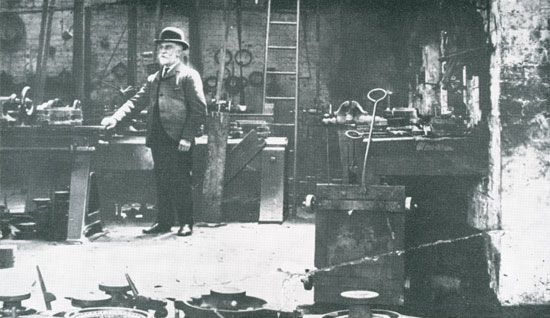 Mr. Angus Greener in the machine shop as it was in 1904.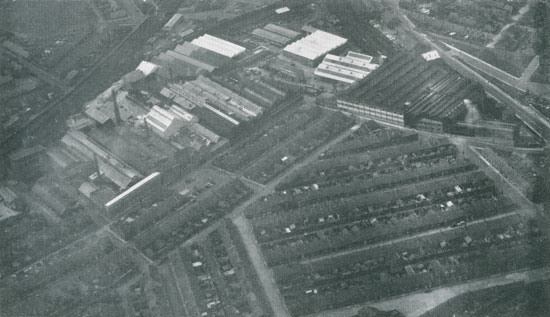 The factory site as it is to-day.
The Leopold Street factory and new offices are in the right background.
| | | |
| --- | --- | --- |
| Mixed Batch | – 56 – | James A. Jobling & Co. Ltd. July 1958 |
The new office block was opened on March 29th 1958 — another stage in the general replanning of the century old factory site.